Who we are and what makes us different
The Polish Green Network is a nationwide non-governmental organisation with a public benefit organisation status, acting for sustainable development, environmental and climate protection.
We are distinguished by, among others, the fact that we associate Polish, independent associations and ecological foundations operating in various places in the country. All our member organisations are signatories of the Environmental NGOs Code of Ethics.
We are also one of Poland's longest operating environmental organisations (over 25 years!). In this long period, we have conducted countless campaigns and projects concerning, among others:
Today, our advocacy, education and communication activities focus mainly on:
energy transformation

– moving away from fossil fuels in favour of renewable energy sources, 

civic energy

– supporting the development of dispersed, decentralised energy production, based on renewable sources (individual and collective prosumers, energy communities) and improving energy efficiency, 

air quality

,

just transition

of regions particularly dependent on hard coal and lignite mining,

enhancing the participation of civil society in the programming and control of public funds (including EU funds) allocated for all of the purposes mentioned above.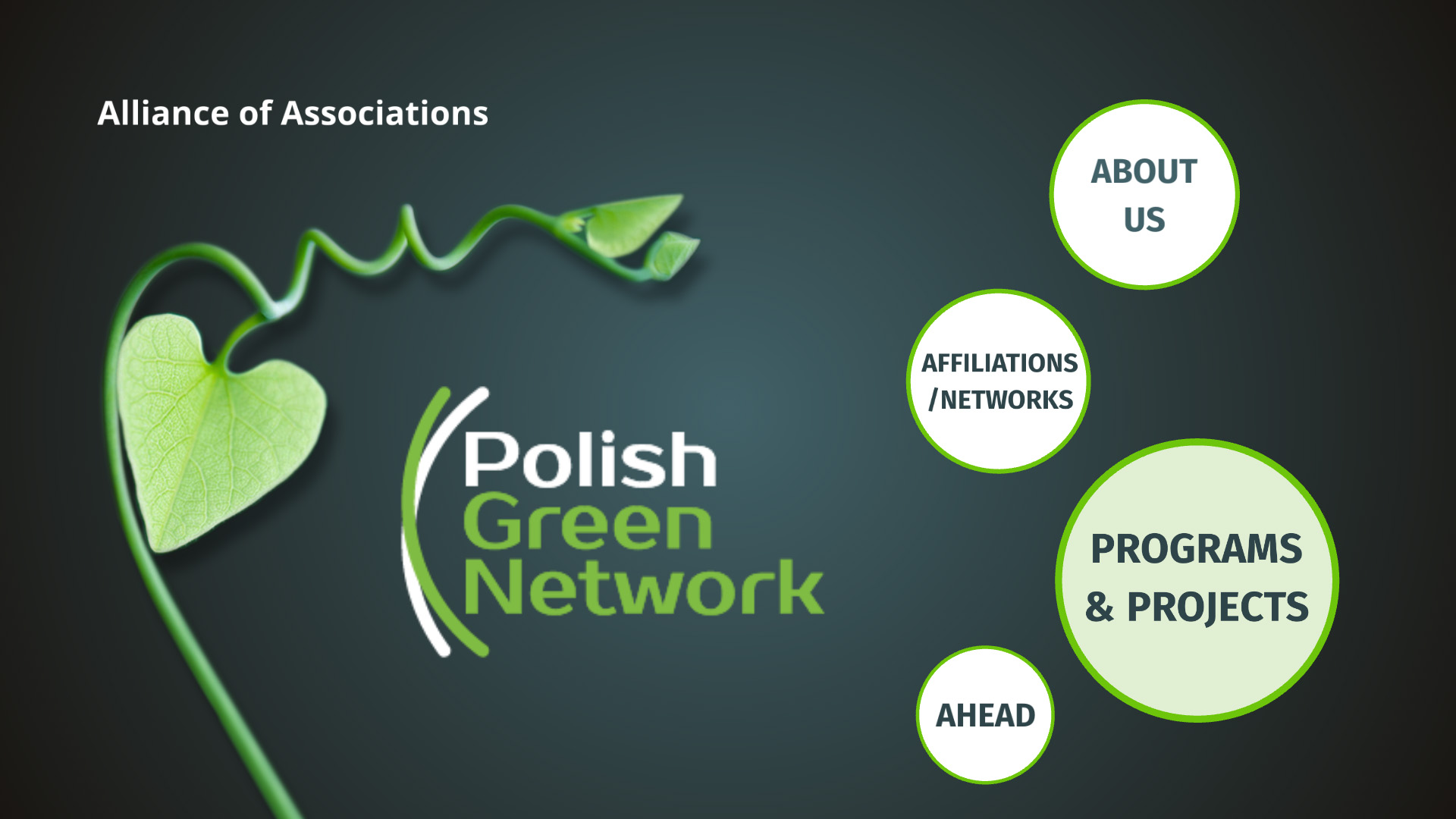 The word "network" in our name is not accidental. It results from our deep conviction and many years of experience proving that we achieve much more when we act together, having common goals. That is why we are not only associating the Polish environmental organisations but also actively cooperate within many national coalitions:
…as well as international ones:
We are the co-founders (AD 2015) and coordinators of the campaign and the movement More than Energy, uniting over 150 entities operating to develop and promote an energy democracy.
Due to our experience and active cooperation with other organisations, we have been playing the honourable role of representatives of the non-governmental sector in the monitoring committees of Polish Operational programmes for many years. Furthermore, we successfully implied dozens of projects financed by foreign institutions and funds for the last quarter century.
You are always welcome, and you can find us here:
Polska Zielona Sieć
(Polish Green Network)
Raszyńska 32/44 lok.140
02-026 Warszawa
You can call us:
+48 22 892 00 86
You can e-mail us:
info@zielonasiec.pl
Media relations: media@zielonasiec.pl